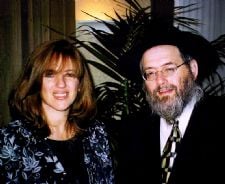 Mr. Saul and Beverly Spigler
President 
Saul@chabadofrara.org
Mr. Saul Spigler is a practicing lawyer and forensic geologist. His work often takes him all over Europe where he has succeeded in reclaiming money and estates taken from Jewish people by the Nazis in WWII.
Saul was one of four Yeshiva students who went on the first ever RARA trip over thirty years ago. Their trip covered 10,000 kilometers as they journeyed through N.S.W, S.A and Queensland. His experiences on that trip inspired him to commit himself to running and supporting Chabad of RARA over the years.
Saul's outreach activities have not been limited to Australia. He has also sent representatives to Singapore, Thailand and New Zealand to run Shabbat and Pesach programs.
Beverly Spigler is the "behind the scenes" manager of Chabad of RARA. She hosts and preps the young Rabbi's for their trips and makes sure all arrangements for two months on the 'beaten track' are taken care of. While on the trail Beverly follows up, sending homemade Shabbat dinners for the RARA boys and their hosts.
Beverly certainly knows how to cater, for a number of years she ran Menchinoe's, Melbourne's finest Kosher pizzeria.   
The Spigler's house is known as an open home, full of friends, guests and good times. Many of the RARA community living in Victoria have been guests for a Shabbat meal or Pesach Seder. So be sure to book in and book often!
 Rabbi Yossi and Malki Rodal
Director
Chabadofrara.org@gmail.com
Rabbi Yossi Rodal directs the many activities and programs that Chabad of RARA offers. Young and energetic, Yossi has extensive experience in Chabad outreach. He organised a seder and Jewish day camp in Lagos, Nigeria, and spent several years in France coordinating the weekly visits by hundreds of yeshiva boys to thousands of shops, restaurants and homes.
A California boy, Yossi married an Aussie girl and moved down to Melbourne. He has seen more of the Australian countryside in one year than many Australians will ever see.
Yossi enjoys hiking, the outdoors, and a good game of basketball. He is currently learning the ins and outs of cricket./p>
Mrs. Malki Rodal brings a woman's touch to the RARA trips. From her creative ideas on the drawing board to her enthusiasm out on the road, Malki adds a welcome dimension to the organisation. She is also the beloved teacher of the RARA online Hebrew School, imbuing her young students with a love of their heritage through learning and fun.
Malki is currently studying towards her Master of Occupational Therapy, and is passionate about helping people live satisfying and meaningful lives. As a hobby, she loves to bake and even has very own cookie workshop, 'The Aussie Baker', where she creates beautiful and unique decorated biscuits for all occasions.